03. May 2017
Warsteiner Art Collection 2017
"One of the biggest small family breweries in the world" – that's the theme of the 2017 Warsteiner Art Collection which serves as the inspiration to create four distinctive tulip glass designs that evoke the independent spirit of the family-run brewery and the international premium beer character.
In corporation with four international artists, Andy Gellenberg (Germany), Art of Sool (Italy), Boom Artwork (The Netherlands) and the No Kings Collective, Brandon Hill and Peter Chang (USA), who each conceptualized an original creative design.
Andy Gellenberg (Germany)
Andy Gellenberg is a german designer, illustrator and artist. In his bold and vibrant style he creates playful artworks with a popart feel includingccollages, patterns, drawings and letterings. He works collaboratively with a range of international clients traversing music, fashion, editorial, and beyond.
Art of Sool (Italy) – Short Bio
Art of Sool is an artistic crew founded in 2010, mainly formed by 3 Italian Artists: Neim, IlClod and MATW. The creative activity of Art of Sool is characterized by three hands drawings and it ranges between many artistic fields, finishing on various supports (paper, canvas, wood, t-shirts, walls, cars, boats, etc.), always starting from freehand drawings, marked by the style of Art of Sol.
Boom Artwork (Netherlands)
BoomArtwork is the pseudonym of Dutch illustrator Eric van den Boom. His style is characterised by strong line work, which is taken to another level with small, vintage details. With the colourful patterns he uses in some pieces, it's been said that his images shimmer and move as though they're being blown by a fan. The high-octane lettering and illustrations he creates have caught the eye of clients all over the globe.
No Kings Collective (USA) – Short Bio
Brandon Hill + Peter Chang = No Kings Collective. Based in Washington D.C., they are an artist-run creative agency that specializes in murals, large installation work and commercial design. No Kings Collective is best known for their unique use of large typography and bright, bold colors in their murals and special art projects.
Over the years, the Warsteiner Art collection – whether in form of our beer can, aluminum bottle or iconic tulip glass which served already as an inspiration for Andy Warhol back in the 1960 – has become a sought-after collector's item for beer and art lovers alike.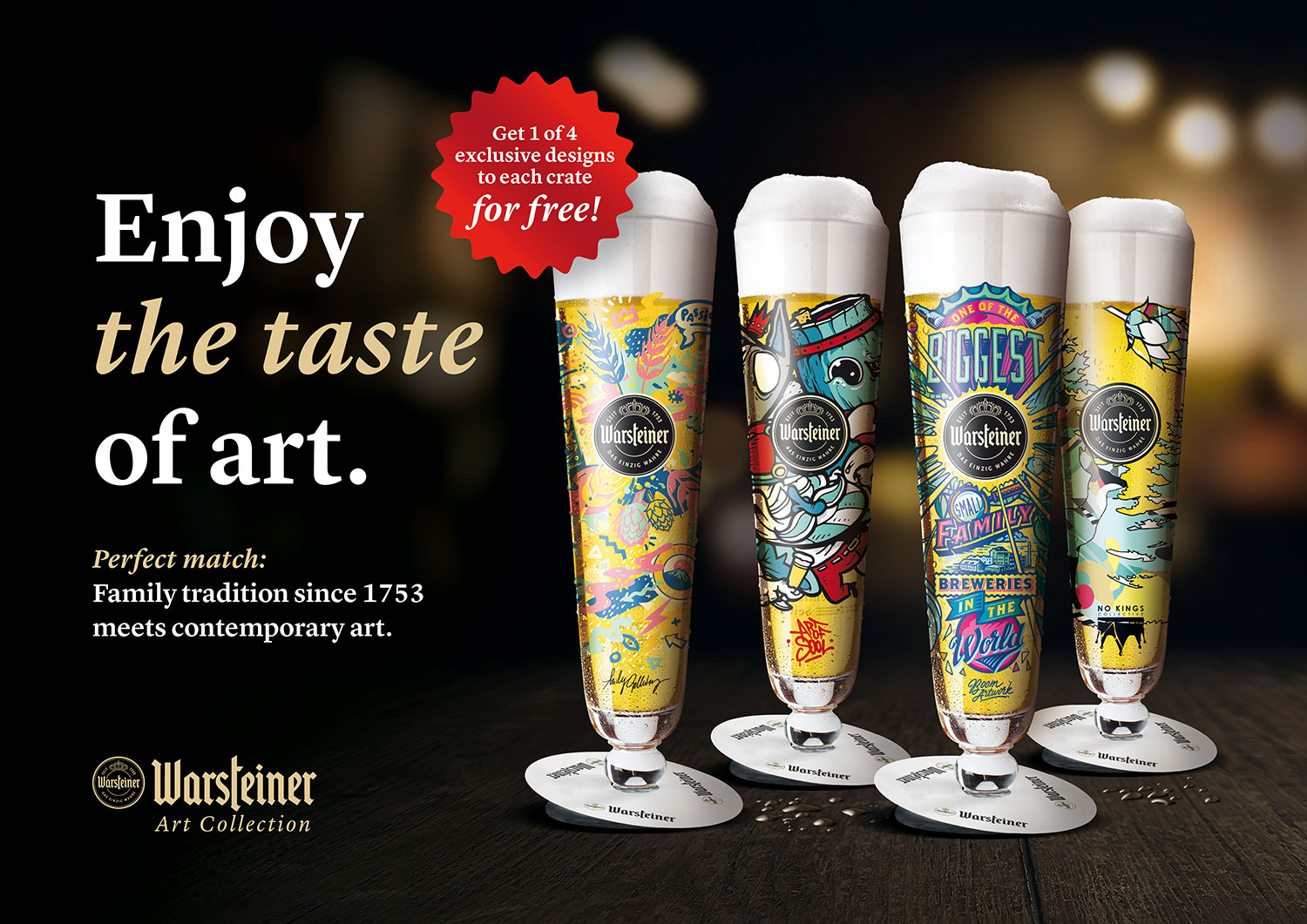 Type and hit enter to search!